Our electronic materials category includes products for semiconductor, printed wiring board and light emitting diode (LED) fabrication, as well as materials for IC, microelectronics and PWB level packaging.
Representative products include solder-paste, conformal coatings, liquid photoresists, photoresist developing, stripping and cleaning solutions, and etching & plating resist inks. Via PhiChem subsidiaries, we also offer a portfolio of epoxy molding compounds (EMC) and solder balls for IC device packaging. Technical data sheets of some of our representative products are provided below. Please contact us for specific information on products listed above, or to discuss a desired product that may not be listed.
Solder paste:
Excellent print consistency
Excellent solder and flux cosmetics after reflow
Reduction in random solder balls, minimizing rework and increasing yield
Excellent pin test yield for single and double reflow
Excellent reliability
Compatible with nitrogen or air reflow
Stencil life 8+ hours (process dependent)
Available in different viscosities
KS10 (View Technical Data Sheet)

KS12 (View Technical Data Sheet)

KS13 (View Technical Data Sheet)
Conformal Coatings:
PhiChem's KS400 series conformal coating solutions are ideal for providing ultrathin (50nm to 1 micron) fluoropolymer film coatings on PWB, glass, metal and plastic substrates. It is a quick drying solution that is also reworkable for repair. KS400 offers good hydrophobicity and oil repellency, and can provide water and moisture resistance for hand-held electronics applications, including smart-phones. KS400 series materials also offer corrosion-resistance, salt-spray resistance and can be "electrically conductive", if thin enough. Technical data sheets for two representative KS400 series materials are provided below.
KS401 (View Technical Data Sheet)

KS450 (View Technical Data Sheet)
Solder Ball Products: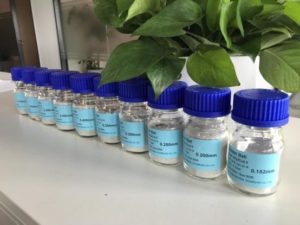 With its recent acquisition of Kaohsiung, Taiwan-based PMTC as a wholly owned subsidiary, PhiChem can now offer a wide range of solder ball products for Ball Grid Array (BGA) and Chip Scale Packaging of ICs. The PMTC product portfolio includes high-end solder balls with Tin-Lead (Sn-Pb), Lead-free and Indium-based compositions. Solder ball diameters range from 0.075mm to 0.76mm and are available in standard, low-temperature, high-temperature and high-purity grades. Please check back for more information to be posted here on this PhiChem product-line, or contact us for immediate assistance.
Epoxy Molding Compounds (EMC) Products: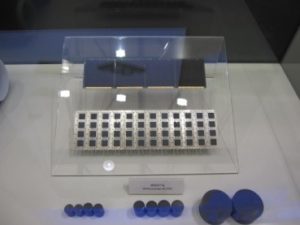 By acquiring a 60% share in what was formerly Eternal Electronic Materials (Kunshan) Co., Ltd. (Eternal Electronic Materials), PhiChem has expanded its offerings in the electronics materials product category. This new subsidiary of PhiChem, based in Kunshan, Jiangsu, China manufactures high-end epoxy molding compounds (EMC) for the semiconductor/integrated circuit packaging sector. The EMC materials are offered in standard, low stress and high thermal conductivity grades. Please check back for more information to be posted here on this PhiChem product-line, or contact us for immediate assistance.
Processing Chemicals for Electronics Fabrication:
PhiChem also offers a variety of specialty processing chemicals that are used in the fabrication of IC, PWB and LED devices and assemblies. Representative products in this category include: Liquid photo resists, Etching resist inks, Plating resist inks, developing solutions, etching solutions and stripping solutions. Please contact us for more information.